Released on October 25, 2022, the fifth and final coin in the first year of the American Women Quarter Program, the 2022 Anna May Wong Quarter (Buy on eBay) honors Anna May Wong, the first prominent Chinese-American Hollywood actress. Her amazing career spanned films, television, and theater, as well as a fashion icon, and most importantly, she was a champion for greater representation of Asians in American motion pictures.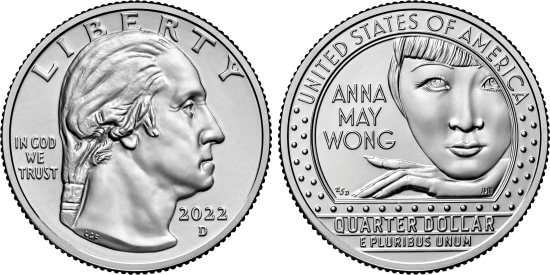 These quarter-dollar coins were struck for circulation at the Philadelphia and Denver Mints and in circulation quality at the San Francisco Mint, only available as part of a three-roll set sold by the Mint at a premium.
The coins struck at the San Francisco Mint were struck in copper-nickel and .999 fine silver Proof for inclusion in the 2022 Proof Set and the 2022 Silver Proof Set and in high-quality mint state condition at the Denver and Philadelphia Mints for the 2022 Uncirculated Coin Set.
Design
The obverse features the side, right-facing profile of George Washington by renowned sculptor and coin designer Laura Gardin Fraser that was originally created for the 1932 Washington Quarter that was planned as a commemorative. Unfortunately, it was not used on that coin, but it did appear on the 1999 Washington $5 Commemorative Coin.
Obverse inscriptions include "LIBERTY," "IN GOD WE TRUST," and "2023."
The reverse features a close-up profile of Anna May Wong with her head resting on her hand, surrounded by the bright lights of a marquee movie sign.
Reverse inscriptions include "ANNA MAY WONG," "UNITED STATES OF AMERICA," "E PLURIBUS UNUM," and "QUARTER DOLLAR."
About Anna May Wong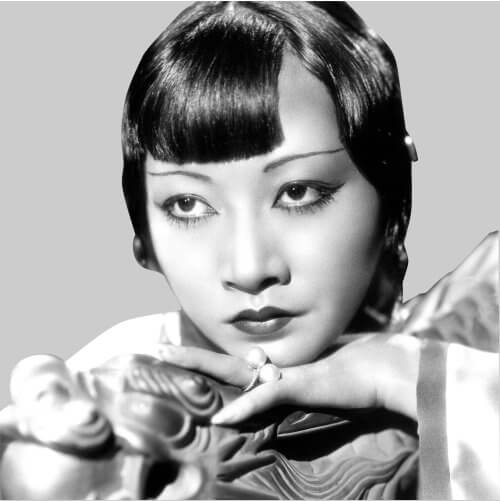 Born in 1905 in Los Angeles with a Chinese name (Wong Liu Tsong) that her family changed to Anna May Wong, she first appeared in minor roles, starting when she was 14, appearing in The Red Lantern and working as an extra before landing a role in The Toll of Sea in 1922.
She went on to appear in over 60 different motion pictures, including silent films. She later became the first Asian-American to star in a television series in the 1950s in, The Gallery of Madame Liu-Tsong. She also was the first Chinese-American actress to achieve international acclaim and recognition
After facing years of discrimination in Hollywood, she moved to Europe and worked in film and theater in London and elsewhere. In 1960 she was awarded a star on the Hollywood Walk of Fame and died in 1961.
Anna May Wong Quarter Artist Information
Obverse Designer: Laura Gardin Fraser
Reverse Sculptor: John P. McGraw (Medallic Artist)
Reverse Designer: Emily Damstra (Artistic Infusion Program)
Anna May Wong Quarter Specifications
Denomination: $0.25
Composition: 91.67% copper, 8.33% nickel (clad), 99.9% silver (silver Proof)
Diameter: 0.955 in. (24.26 mm)
Weight: 0.182 troy oz. (5.67 g)
Thickness: 1.75 mm
Edge: reeded
Mint Mark: "D" (Denver), "P" (Philadelphia), "S" (San Francisco)
Anna May Wong Quarter Mintages
2022-P Anna May Wong Quarter: 226,800,000
2022-D Anna May Wong Quarter: 240,800,000
2022-S Anna May Wong Quarter: 304,680 (only sold as part of the 3-roll set)
Mintage numbers based on U.S. Mint sales figures as of August 15, 2023

< Nina Otero-Warren | Bessie Coleman >