On March 21, 2022, the United States Mint began shipping circulation examples of the 2022 Dr. Sally Ride Quarter (Buy on eBay) to the Federal Reserve.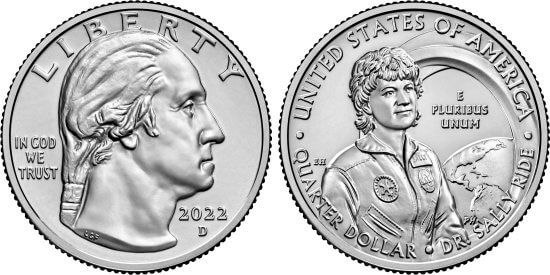 Dr. Sally Ride, the first American woman in space, captured the Nation's imagination as a symbol of the ability of women to shatter barriers. "Heralding her accomplishments via this beautiful quarter provides the Mint with yet another opportunity to connect America through coins," said Mint Deputy Director Ventris C. Gibson when the coins were launched. "The historic four-year AWQ program celebrates the breadth and depth of accomplishments of American women throughout our Nation's history."
This coin was another strong seller in rolls and bags sold by the Mint at a premium following the success of the Maya Angelou Quarter, with the rolls and bags selling out through enrollment orders and the 2022-S Dr. Sally Ride Quarters only available in the 3-roll sets, in particular, garnering a strong premium after selling-out quickly at the Mint.
Design
The obverse depicts a portrait of George Washington, originally composed and sculpted by Laura Gardin Fraser to mark George Washington's 200th birthday. Gibson, said: "I am proud that the new obverse design of George Washington is by one of the most prolific female sculptors of the early 20th century. Fraser was the first woman to design a U.S. coin, and her work is lauded in both numismatic and artistic circles. Ninety years after she intended for it to do so, her obverse design will fittingly take its place on the quarter.
Obverse inscriptions include "LIBERTY," "IN GOD WE TRUST," and "2023."
The reverse depicts Dr. Sally Ride next to a window on the space shuttle, inspired by her quote, "But when I wasn't working, I was usually at a window looking down at Earth." The inscription "E PLURIBUS UNUM" is intentionally positioned over the Earth next to America, indicating that out of all women in the United States, Dr. Ride was the first into space.
About Dr. Sally Ride
Dr. Ride was a physicist, pioneer in space exploration, and leader in science education. The first American woman to soar into space, Dr. Ride's historic flight represented just one aspect of a remarkable and multi-faceted life. She was also an athlete, science writer, and professor.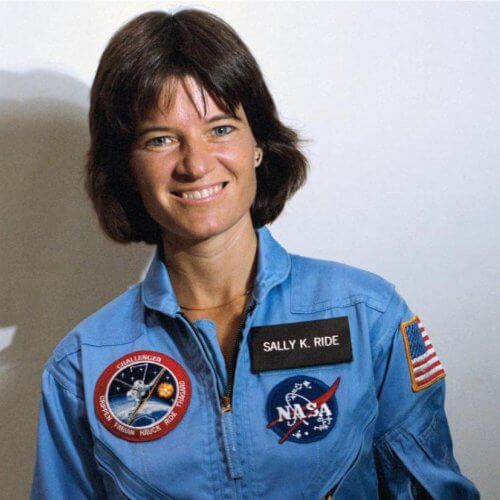 After graduating from Stanford University with a double major in English and physics, she continued her studies in graduate school. While finishing her Ph.D. at Stanford, she read that NASA was looking for new astronauts. On June 18, 1983, she became not just the first woman but also, at age 32, the youngest American to go into space. During that six-day mission, she deployed and retrieved a satellite using the Space Shuttle's robotic arm.
She left NASA in 1987 for a fellowship at Stanford, where she studied arms control, and later became a professor of physics at the University of California, San Diego and director of the California Space Institute. She later led public outreach programs for NASA and was appointed to the board that investigated the Challenger Space Shuttle disaster. She later founded and became president and CEO of Sally Ride Science, a company she created with her partner. The Obama administration offered her the position of NASA administrator, which she turned down.
She passed away at 61 in 2012, and the following year she was posthumously awarded the Presidential Medal of Freedom by President Barack Obama. In 2018 the USPS issued a postage stamp with her image on it.
Dr. Sally Ride Quarter Artist Information
Obverse Designer: Laura Gardin Fraser
Reverse Sculptor: Phebe Hemphill (Medallic Artist)
Reverse Designer: Elana Hagler (Artistic Infusion Program)
Dr. Sally Ride Quarter Specifications
Denomination: $0.25
Composition: 91.67% copper, 8.33% nickel (clad), 99.9% silver (silver Proof)
Diameter: 0.955 in. (24.26 mm)
Weight: 0.182 troy oz. (5.67 g)
Thickness: 1.75 mm
Edge: reeded
Mint Mark: "D" (Denver), "P" (Philadelphia), "S" (San Francisco)
Dr. Sally Ride Quarter Mintages
2022-P Dr. Sally Ride Quarter: 275,200,000
2022-D Dr. Sally Ride Quarter: 278,000,00
2022-S Dr. Sally Ride Quarter: 304,120 (only sold as part of the 3-roll set)
Mintage numbers based on U.S. Mint sales figures as of August 15, 2023

< Maya Angelou | Wilma Mankiller >