On June 6, the U.S. Mint released the 2022 Wilma Mankiller Quarter (Buy on eBay), the third release in the American Women Quarters program. Mankiller was a Native American activist, social worker, and community developer who became the first female elected chief of the Cherokee Nation.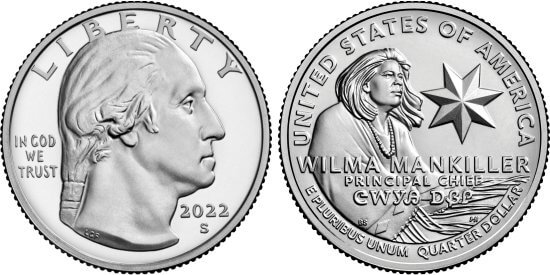 Mint Director Ventris C. Gibson said when announcing the new coin: "Wilma Mankiller was a leader in the Cherokee Nation and a strong voice worldwide for social justice, Native people, and women."
A public launch event attended by 800 people was held on June 6 in Tahlequah, Oklahoma, presented by BancFirst and the Cherokee Nation at the Chota Conference Center. Representatives from the United States Mint, the Cherokee Nation, BancFirst, and Wilma Mankiller's family participated in the ceremony. Attendees were welcomed to the event by traditional Cherokee flute music performed by Cherokee National Treasure, Tommy Wildcat. Special guest Breanna Olaya-Morton, Mankiller's granddaughter, sang with the Cherokee Adult Choir and Cherokee National Youth Choir.
Speakers included Gloria Steinham and representatives of Native tribal nations and the U.S. Mint, who spoke about Mankiller's legacy.
Design
The obverse depicts a portrait of George Washington, originally composed and sculpted by Laura Gardin Fraser to mark George Washington's 200th birthday. A recommended design for the 1932 quarter, then-Treasury Secretary Andrew Mellon ultimately selected the familiar Flanagan design.
Obverse inscriptions include "LIBERTY," "IN GOD WE TRUST," and "2023."
The reverse, designed by Phebe Hemphill and sculpted by Benjamin Sowards, depicts Wilma Mankiller with a resolute gaze to the future. The wind is at her back, and she is wrapped in a traditional shawl. To her left is the seven-pointed star of the Cherokee Nation.
Reverse inscriptions include the name of the Cherokee Nation written in the Cherokee syllabary, "PRINCIPAL CHIEF," "WILMA MANKILLER," "QUARTER DOLLAR," "E PLURIBUS UNUM," and "UNITED STATES OF AMERICA."
"Principal Chief Mankiller demonstrated that the power to change our communities is limited only by our vision," said AIP Artist Benjamin Sowards. "She saw her people as the source of hope for the Cherokee Nation. She believed the strength of the community offered solutions to the challenges they were facing.
About Wilma Mankiller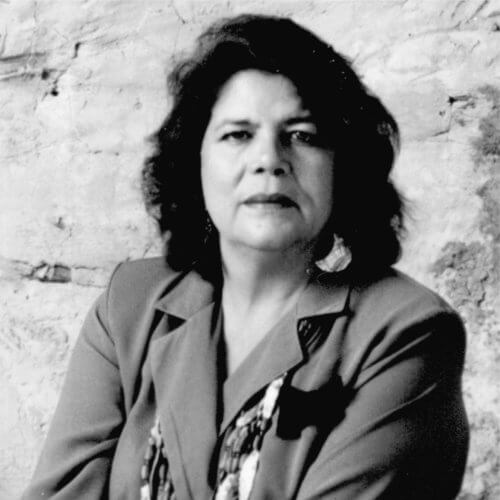 Wilma Mankiller was elected deputy chief of the Cherokee Nation in 1983, and in 1985 she became principal chief of the tribe, serving in that position until 1994. Her period as chief was marked by substantial improvements to the life of Cherokee Nation members, including doubling employment, increasing education levels, reducing infant mortality, and launching facilities for housing, health care, and children's programs in Oklahoma.
After that period ended, she became very active in philanthropy, serving on several boards. In 1998 President Bill Clinton awarded her the Presidential Medal of Freedom, the highest civilian award in the United States. After her death in 2010, a foundation was established in her name that seeks to continue her legacy of social justice activism and promotion of the development of Native American communities.
Wilma Mankiller Quarter Artist Information
Obverse Designer: Laura Gardin Fraser
Reverse Sculptor: Phebe Hemphill (Medallic Artist)
Reverse Designer: Benjamin Sowards (Artistic Infusion Program)
Wilma Mankiller Quarter Specifications
Denomination: $0.25
Composition: 91.67% copper, 8.33% nickel (clad), 99.9% silver (silver Proof)
Diameter: 0.955 in. (24.26 mm)
Weight: 0.182 troy oz. (5.67 g)
Thickness: 1.75 mm
Edge: reeded
Mint Mark: "D" (Denver), "P" (Philadelphia), "S" (San Francisco)
Wilma Mankiller Quarter Mintages
2022-P Wilma Mankiller Quarter: 310,000,000
2022-D Wilma Mankiller Quarter: 296,800,00
2022-S Wilma Mankiller Quarter: 304,640 (only sold as part of the 3-roll set)
Mintage numbers based on U.S. Mint sales figures as of August 15, 2023

< Dr. Sally Ride | Nina Otero-Warren >