Unlike some prior releases in the American Women Quarters Program, the 2023 Eleanor Roosevelt Quarter (Buy on eBay) depicts a woman known to most Americans. She was a political figure, writer, human rights activist, and the longest-serving first lady in American history. She was married to her distant cousin President Franklin D. Roosevelt, for 40 years, from 1905 until FDR died in 1945, including from 1933 to 1945 when they lived in the White House.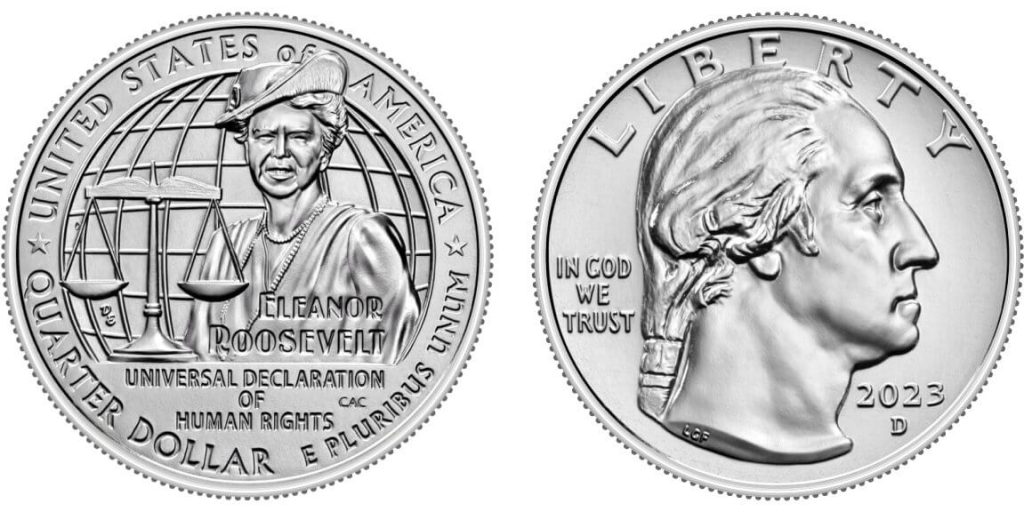 In 2014, a $10 First Spouse Gold Coin was issued for her, and in 2023, the 2023 Eleanor Roosevelt Quarter was issued for circulation at the Denver and Philadelphia Mints and at the San Francisco Mint in Proof versions for collectors and limited issue coins of circulation quality with the "S" mint mark, only available as part of a three-roll set sold by the U.S. Mint.
Design
The design of the Eleanor Roosevelt Quarter was unveiled on August 29, 2022, along with those for the other 2023 American Women Quarters, after having been reviewed by the Citizens Coinage Advisory Committee and the Commission on Fine Arts, with the final selection having been made by Treasury Secretary Janet Yellen.
The obverse depicts a portrait of George Washington originally designed and sculpted by Laura Gardin Fraser to mark George Washington's 200th birthday. Recommended as the design for the 1932 quarter by the Commission on Fine Arts, then-Treasury Secretary Andrew Mellon ultimately selected the familiar John Flanagan design instead.
Obverse inscriptions include "LIBERTY," "IN GOD WE TRUST," and "2023."
The reverse was designed by Artistic Infusion Program artist Donald Everhart II, who retired in 2017 from the U.S. Mint as lead sculptor-engraver and was sculpted by U.S. Mint Medallic Artist Craig A. Campbell.
The design features a portrait of Eleanor Roosevelt wearing one of her characteristic hats and standing next to an image of the scales of justice against a background representing the globe, symbolizing the vital work she did at the United Nations.
Reverse inscriptions include "UNITED STATES OF AMERICA," "QUARTER DOLLAR," "E PLURIBUS UNUM," "ELEANOR ROOSEVELT," and "UNIVERSAL DECLARATION OF HUMAN RIGHTS."
About Eleanor Roosevelt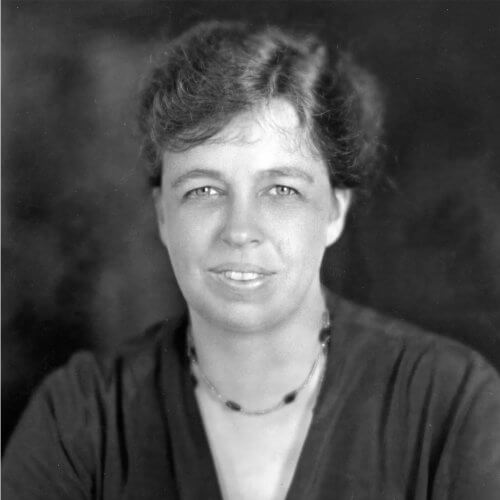 After President Franklin D. Roosevelt developed polio in 1921, Eleanor often gave speeches and spoke on his behalf. She was also his closest advisor as president. She was an outspoken advocate from that period, arguing in favor of African American civil rights and a more significant role for women in the workplace. In an era when women rarely spoke out, especially about political matters, she gave a weekly radio address, wrote a daily newspaper column, and gave regular press conferences.
When FDR died in 1945, she remained active in politics. President Harry Truman appointed her as the first American representative to serve on the United Nations' Commission on Human Rights from 1947 to 1953 and oversaw the drafting of the Universal Declaration on Human Rights. Later she chaired the Presidential Commission on the Status of Women for President John F. Kennedy.
By the time of her death in 1962, she was one of the world's most widely admired and well-known women and remains one of the most respected figures of the 20th century.
Eleanor Roosevelt Quarter Artist Information
Obverse Designer: Laura Gardin Fraser
Reverse Sculptor: Craig Campbell (Medallic Artist)
Reverse Designer: Don Everhart (Artistic Infusion Program)
Eleanor Roosevelt Quarter Specifications
Denomination: $0.25
Composition: 91.67% copper, 8.33% nickel (clad), 99.9% silver (silver Proof)
Diameter: 0.955 in. (24.26 mm)
Weight: 0.182 troy oz. (5.67 g)
Thickness: 1.75 mm
Edge: reeded
Mint Mark: "D" (Denver), "P" (Philadelphia), "S" (San Francisco)
Eleanor Roosevelt Quarter Mintage
2023-P Eleanor Roosevelt Quarter: 284,000,000
2023-D Eleanor Roosevelt Quarter: 271,800,000
2023-S Eleanor Roosevelt Quarter: 505,680 (only sold as part of the 3-roll set)
Mintage numbers based on U.S. Mint sales figures as of November 13, 2023

< Edith Kanaka'ole | Jovita Idar >