The seventh coin in the American Women Quarters Series—the 2023 Edith Kanaka'ole Quarter (Buy on eBay)—depicts Edith Kanaka'ole, an indigenous Hawaiian composer, chanter, Kumu Hula (master teacher of Hula), and custodian of native culture, traditions, and lands.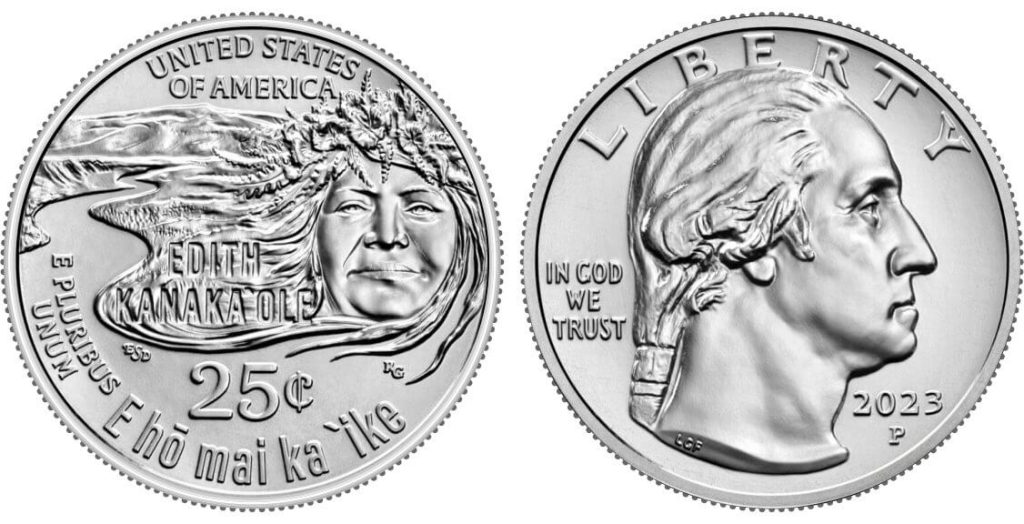 On March 27, 2023, the United States Mint began selling rolls and bags of the 2023-P Edith Kanaka'ole Quarter and the 2023-D Edith Kanaka'ole Quarter, including two-roll sets and 100-coin bags of both coins and a limited number of three-roll sets that include the 2023-S Edith Kanaka'ole Quarter.
This coin will also be featured in the 2023 Uncirculated Coin Set, Proof Set, Silver Proof Set, and the American Women Clad and Silver Proof Set.
Design
The design of the Edith Kanaka'ole Quarter was unveiled on August 29, 2022, along with those for the other 2023 American Women Quarters, after having been reviewed by the Citizens Coinage Advisory Committee and the Commission on Fine Arts with the final selection having been made by Treasury Secretary Janet Yellen.
The obverse depicts a portrait of George Washington originally designed and sculpted by Laura Gardin Fraser to mark George Washington's 200th birthday. Recommended as the design for the 1932 quarter by the Commission on Fine Arts, then-Treasury Secretary Andrew Mellon ultimately selected the familiar John Flanagan design instead.
Obverse inscriptions include "LIBERTY," "IN GOD WE TRUST," and "2023."
The reverse depicts a portrait of Edith Kanakaʻole, with her hair and lei poʻo (head lei) morphing into the elements of a Hawaiian landscape, symbolizing Kanakaʻole's extensive work preserving the natural land and traditional Hawaiian culture. The inscription "E hō mai ka ʻike" at the bottom of the reverse translates as "granting the wisdom" and refers to the intertwined role hula and chants play in this preservation. In addition, there are inscriptions for "UNITED STATES OF AMERICA," "E PLURIBUS UNUM," "25 CENTS," and "EDITH KANAKA'OLE."
The reverse design is the work of Artistic Infusion Artist Emily Damstra and was sculpted by United States Mint Medallic Artist Renata Gordon.
Reverse inscriptions include "EDITH KANAKA'OLE," "E PLURIBUS UNUM," "25¢," and "E hō mai ka ʻike," which translates to "granting the wisdom."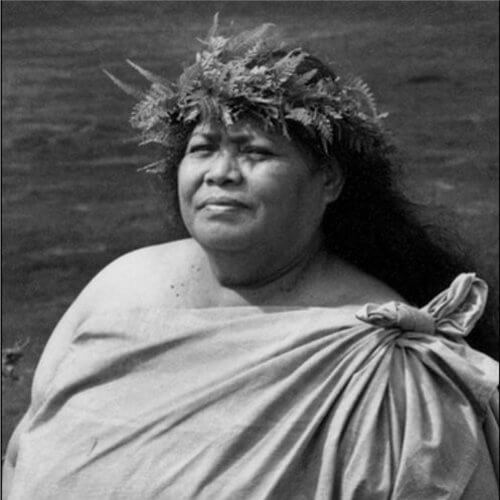 About Edith Kanaka'ole
"Aunty Edith," as she was known, was a recognized authority on modern Hawaiian culture, music, and language, and her work composing music, choreographing Hula, and developing stories known as mo'olelo played an essential role in preventing those Hawaiian cultural traditions from disappearing.
She founded her own Hula school, and developed language programs for public schools and college courses on Hawaiian mythology, genealogy, and other topics. In 1979, the year she died, she received the state of Hawaii's highest honor, the Distinction of Cultural Leadership.
Edith Kanaka'ole Quarter Artist Information
Obverse Designer: Laura Gardin Fraser
Reverse Sculptor: Renata Gordon (Medallic Artist)
Reverse Designer: Emily Damstra (Artistic Infusion Program)
Edith Kanaka'ole Quarter Specifications
Denomination: $0.25
Composition: 91.67% copper, 8.33% nickel (clad), 99.9% silver (silver Proof)
Diameter: 0.955 in. (24.26 mm)
Weight: 0.182 troy oz. (5.67 g)
Thickness: 1.75 mm
Edge: reeded
Mint Mark: "D" (Denver), "P" (Philadelphia), "S" (San Francisco)
Edith Kanaka'ole Quarter Mintage
2023-P Edith Kanaka'ole Quarter: 372,800,000
2023-D Edith Kanaka'ole Quarter: 368,600,000
2023-S Edith Kanaka'ole Quarter: 502,760 (only sold as part of the 3-roll set)
Mintage numbers based on U.S. Mint sales figures as of November 13, 2023

< Bessie Coleman | Eleanor Roosevelt >