The 2023 Maria Tallchief Quarter (Buy on eBay) is the tenth coin in the American Women Quarter Series. This American Woman Quarter, along with a Native American $1 Coin issued on February 6, 2023, is dedicated to Native American ballerina Maria Tallchief.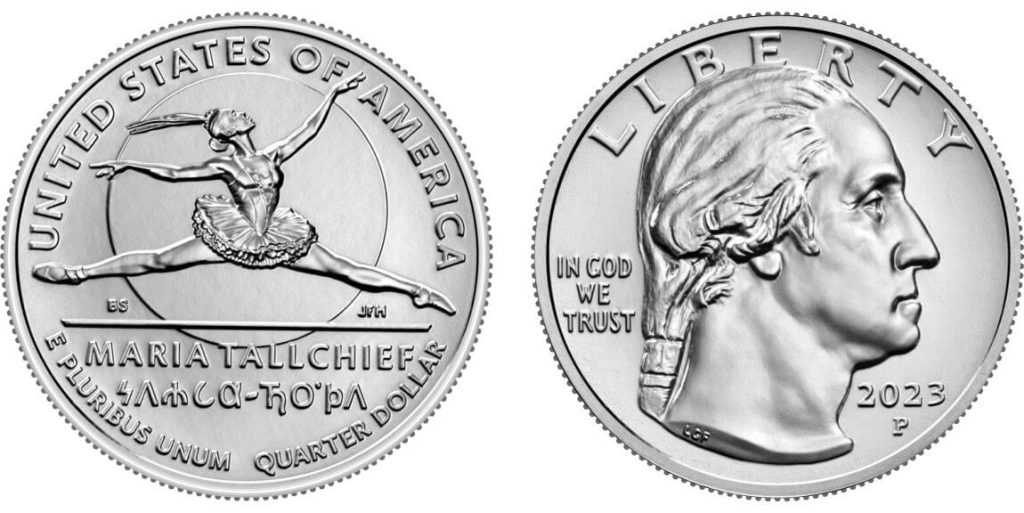 The 2023-P Maria Tallchief Quarter and the 2023-D Maria Tallchief Quarter will also be sold in two-roll sets and 100-coin bags. In addition, a limited number of 2023-S Maria Tallchief Quarters will also be sold only in a three-roll set, along with rolls of the Denver and Philadelphia coins.
Design
The design of the Maria Tallchief Quarter was unveiled on August 29, 2022, along with those for the other 2023 American Women Quarters after having been reviewed by the Citizens Coinage Advisory Committee and the Commission on Fine Arts, with the final selection having been made by Treasury Secretary Janet Yellen.
The obverse depicts a portrait of George Washington originally designed and sculpted by Laura Gardin Fraser to mark George Washington's 200th birthday. Recommended as the design for the 1932 quarter by the Commission on Fine Arts, then-Treasury Secretary Andrew Mellon ultimately selected the familiar John Flanagan design instead.
Obverse inscriptions include "LIBERTY," "IN GOD WE TRUST," and "2023."
The reverse (tails) depicts Maria Tallchief spotlit in a balletic pose. Her Osage name, which translates to "Two Standards," is written in Osage orthography.
Reverse inscriptions include "MARIA TALLCHIEF" (plus her name written in Osage orthography), "QUARTER DOLLAR," "E PLURIBUS UNUM," and "UNITED STATES OF AMERICA."
About Maria Tallchief
Maria Tallchief was a dancer and ballerina of Native American origin who revolutionized ballet and became the United States' first major prima ballerina. She was also the first Native American to hold that distinction.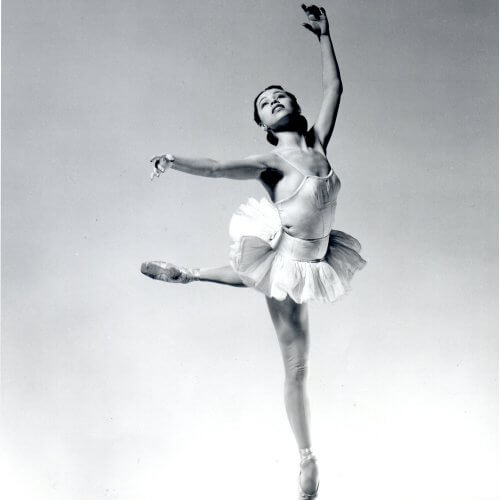 She was born in 1925 in Oklahoma on the Osage reservation. She began dance lessons at age 3, and when she was 8, her family moved to Los Angeles to help her and her sister with their dance careers. She moved to New York City at 17 and took the name Maria Tallchief. There she met George Balanchine, the famous choreographer. His demanding choreography, coupled with her passionate dancing, helped to revolutionize classical ballet in the U.S. and overseas.
She later married Balanchine, but their marriage ended in 1951, and she later married Henry Pachen. Her ballet work took her all over the world, and she was the first American ballerina to perform in Moscow.
After she retired in the late 1960s, she founded a ballet school and promoted ballet in Chicago.
She was also inducted into the National Women's Hall of Fame, received a National Medal of Arts, and was a Kennedy Center Honoree for lifetime achievement.
Maria Tallchief Quarter Artist Information
Obverse Designer: Laura Gardin Fraser
Reverse Sculptor: Joseph Menna (Medallic Artist)
Reverse Designer: Benjamin Sowards (Artistic Infusion Program)
Maria Tallchief Quarter Specifications
Denomination: $0.25
Composition: 91.67% copper, 8.33% nickel (clad), 99.9% silver (silver Proof)
Diameter: 0.955 in. (24.26 mm)
Weight: 0.182 troy oz. (5.67 g)
Thickness: 1.75 mm
Edge: reeded
Mint Mark: "D" (Denver), "P" (Philadelphia), "S" (San Francisco)
Maria Tallchief Quarter Mintage
2023-P Maria Tallchief Quarter: 850,640
2023-D Maria Tallchief Quarter: 832,240
2023-S Maria Tallchief Quarter: 498,240 (only sold as part of the 3-roll set)
Mintage numbers based on U.S. Mint sales figures as of August 15, 2023