The 2023 Jovita Idar Quarter (Buy on eBay) is the ninth coin in the American Women Quarter Series. The coin celebrates early 20th-century Mexican-American teacher, journalist, suffragist, and activist Jovita Idar, who devoted her life to improving the voting and civil rights of women and Mexican-Americans.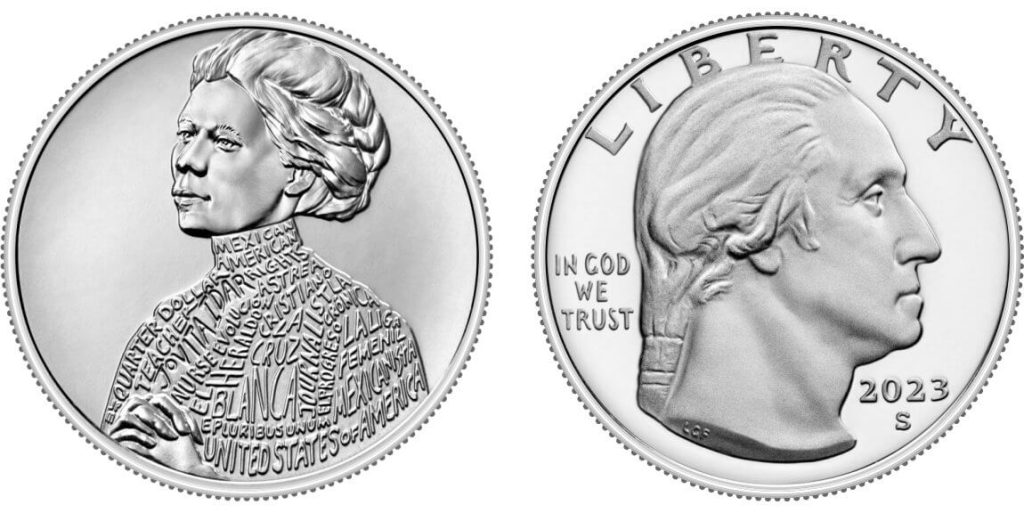 The 2023-P Jovita Idar Quarter and the 2023-D Jovita Idar Quarter will also be sold in two-roll sets and 100-coin bags. In addition, a limited number of the 2023-S Jovita Idar Quarter will also be sold only in a three-roll set, along with rolls of the Denver and Philadelphia coins.
Design
The design of the Jovita Idar Quarter was unveiled on August 29, 2022, along with those for the other 2023 American Women Quarters after having been reviewed by the Citizens Coinage Advisory Committee and the Commission on Fine Arts with the final selection having been made by Treasury Secretary Janet Yellen.
The obverse depicts a portrait of George Washington originally designed and sculpted by Laura Gardin Fraser to mark George Washington's 200th birthday. Recommended as the design for the 1932 quarter by the Commission on Fine Arts, then-Treasury Secretary Andrew Mellon ultimately selected the familiar John Flanagan design instead.
Obverse inscriptions include "LIBERTY," "IN GOD WE TRUST," and "2023."
The reverse (tails) depicts a portrait of Jovita Idar with her hands clasped. Within her body is a large number of inscriptions representing some of her greatest accomplishments and the newspapers for which she wrote.
Reverse inscriptions include "MEXICAN AMERICAN RIGHTS," "TEACHER," "JOVITA IDAR," "NURSE," "EVOLUCIÓN," "ASTREA," "EL HERALDO CRISTIANO," "LA CRUZ BLANCA," "JOURNALIST," "LA CRÓNICA," "EL PROGRESO," "LA LIGA FEMENIL MEXICANISTA," "QUARTER DOLLAR," "E PLURIBUS UNUM," and "UNITED STATES OF AMERICA."
About Jovita Idar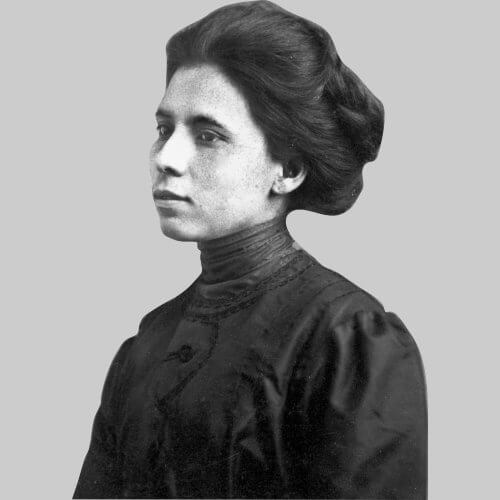 Born in 1885 in Laredo, Texas, she was the daughter of a newspaper editor and activist for the rights of Mexican-Americans.
After several years of teaching, she later worked for several different Spanish-language American newspapers during the Mexican Revolution from 1910 to 1920. In 1911 she became president of the newly-established league of Mexican-American women that sought to improve the lives of children in Laredo and to empower Mexican-American women.
She believed strongly in the power of education to improve people's lives.
She was ahead of her time as an outspoken advocate against racism, for the rights of Mexican-Americans, and in favor of the Mexican Revolution.
After her father died, she became editor of his newspaper, La Cronica, and later established a weekly publication. She died in 1946.
Jovita Idar Quarter Artist Information
Obverse Designer: Laura Gardin Fraser
Reverse Sculptor/Designer: John P. McGraw (Medallic Artist)
Jovita Idar Quarter Specifications
Denomination: $0.25
Composition: 91.67% copper, 8.33% nickel (clad), 99.9% silver (silver Proof)
Diameter: 0.955 in. (24.26 mm)
Weight: 0.182 troy oz. (5.67 g)
Thickness: 1.75 mm
Edge: reeded
Mint Mark: "D" (Denver), "P" (Philadelphia), "S" (San Francisco)
Jovita Idar Quarter Mintage
2023-P Jovita Idar Quarter: 190,600,000
2023-D Jovita Idar Quarter: 188,000,000
2023-S Jovita Idar Quarter: 502,840 (only sold as part of the 3-roll set)
Mintage numbers based on U.S. Mint sales figures as of November 13, 2023

< Eleanor Roosevelt | Maria Tallchief >