The first coin in the American Women Quarters Program, the 2022 Maya Angelou Quarter (Buy on eBay), was released into circulation in January 2022, with examples struck at the Philadelphia and Denver Mints.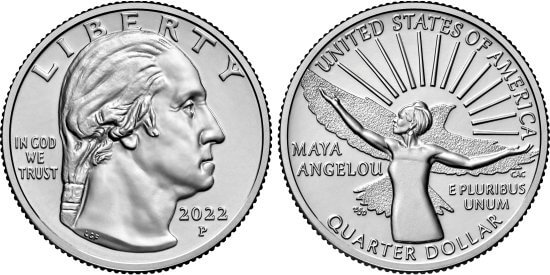 On February 7, the U.S. Mint began selling 100-coin bags and 40-coin rolls, with the latter sold in sets of one "P" and one "D" roll or a set of "P", "D", and "S" rolls, with the last option being the only way to obtain the 2022-S Maya Angelou Quarters. The coins sold this way all sold out almost instantly, and that was mainly through the enrollment program orders.
The coins were the first ever issued by the United States that featured a real Black woman as opposed to an allegorical figure such as on the 2017 American Liberty $100 Gold Coin.
To launch the first coin in the program, the U.S. Mint joined representatives from the National Women's History Museum and the Smithsonian in a virtual event on February 28 to discuss the quarter design and details of the program.
This coin and the American Women Quarter series received a great deal of mainstream press coverage, which helped stimulate high demand for the coins, including both circulation pieces and those made for collectors, such as the Proof Sets with all five 2022 quarters, which were strong sellers as were all products with the new quarters.
Design
The obverse depicts a portrait of George Washington that was originally designed and sculpted by Laura Gardin Fraser to mark George Washington's 200th birthday. Recommended as the design for the 1932 quarter by the Commission on Fine Arts, then-Treasury Secretary Andrew Mellon ultimately selected the familiar John Flanagan design instead.
Obverse inscriptions include "LIBERTY," "IN GOD WE TRUST," and "2023."
The reverse depicts Maya Angelou with her arms uplifted. Behind her are a bird in flight and a rising sun, images inspired by her poetry and symbolic of how she lived.
Reverse inscriptions include "MAYA ANGELOU," "QUARTER DOLLAR," "E PLURIBUS UNUM," and "UNITED STATES OF AMERICA."
"Maya Angelou's writing and activism inspired countless Americans, and her legacy helped fuel greater fairness and understanding across our nation," said Senator Catherine Cortez Masto (D-NV), Senate sponsor of the bill. "She is exactly the type of leader I had in mind when Senator [Deb] Fischer, Representative [Barbara] Lee, and I wrote our bipartisan legislation to create a series of quarters honoring the contributions of American women. This coin will ensure generations of Americans learn about Maya Angelou's books and poetry that spoke to the lived experience of Black women."
"As a leader in the civil rights movement, poet laureate, college professor, Broadway actress, dancer, and the first female African American cable car conductor in San Francisco, Maya Angelou's brilliance and artistry inspired generations of Americans," said Representative Barbara Lee (D-CA), House sponsor of the bill. "I will forever cherish the private moments I had the privilege to share with Maya, from talking in her living room as sisters to her invaluable counsel throughout the challenges I faced as a Black woman in elected office. I am proud to have led this effort to honor these phenomenal women, who, more often than not, are overlooked in our country's telling of history. If you find yourself holding a Maya Angelou Quarter, may you be reminded of her words, 'Be certain that you do not die without having done something wonderful for humanity.'"
About Maya Angelou
Maya Angelou was a celebrated poet, writer, performer, and social activist who achieved national and international recognition for her work following the publication of her landmark book I Know Why the Caged Bird Sings and 30 other bestselling books.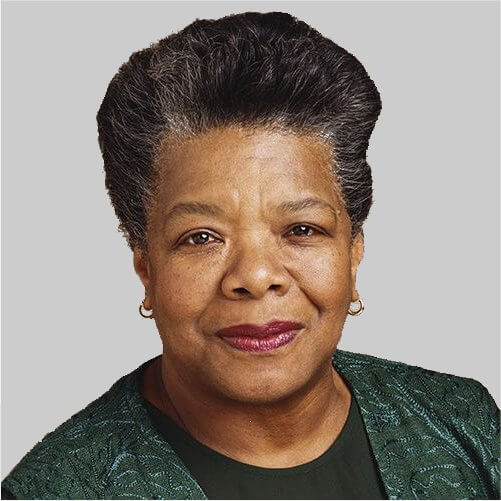 Angelou appeared in many Broadway and off-Broadway plays, including Cabaret for Freedom, which she wrote with Godfrey Cambridge. At the request of Dr. Martin Luther King, Jr., she served as the northern coordinator of the Southern Christian Leadership Conference. In 1978, she was a National Book Award judge for biography and autobiography.
Angelou read On the Pulse of Morning at the 1992 inauguration of President Bill Clinton and was later appointed the Poet Laureate of the United States. Angelou's reading at the inauguration marked the first time an African American woman wrote and presented a poem at a presidential inauguration. Angelou received more than 30 honorary degrees and was inducted into the Wake Forest University Hall of Fame for Writers. In 2010, President Barack Obama awarded her the Presidential Medal of Freedom. She was also the 2013 recipient of the Literarian Award, an honorary National Book Award for contributions to the literary community.
Maya Angelou Quarter Artist Information
Obverse Designer: Laura Gardin Fraser
Reverse Sculptor: Craig Campbell (Medallic Artist)
Reverse Designer: Emily Damstra (Artistic Infusion Program)
Maya Angelou Quarter Specifications
Denomination: $0.25
Composition: 91.67% copper, 8.33% nickel (clad), 99.9% silver (silver proof)
Diameter: 0.955 in. (24.26 mm)
Weight: 0.182 troy oz. (5.67 g)
Thickness: 1.75 mm
Edge: reeded
Mint Mark: "D" (Denver), "P" (Philadelphia), "S" (San Francisco)
Maya Angelou Quarter Mintages
2022-P Maya Angelou Quarter: 237,600,000
2022-D Maya Angelou Quarter: 258,200,000
2022-S Maya Angelou Quarter: 303,520 (only sold as part of the 3-roll set)
Mintage numbers based on U.S. Mint sales figures as of August 15, 2023