On January 3, 2023, the United States Mint began shipping the first 2023 coin in the American Women Quarters Program. These circulating coins were struck at the Philadelphia and Denver Mints.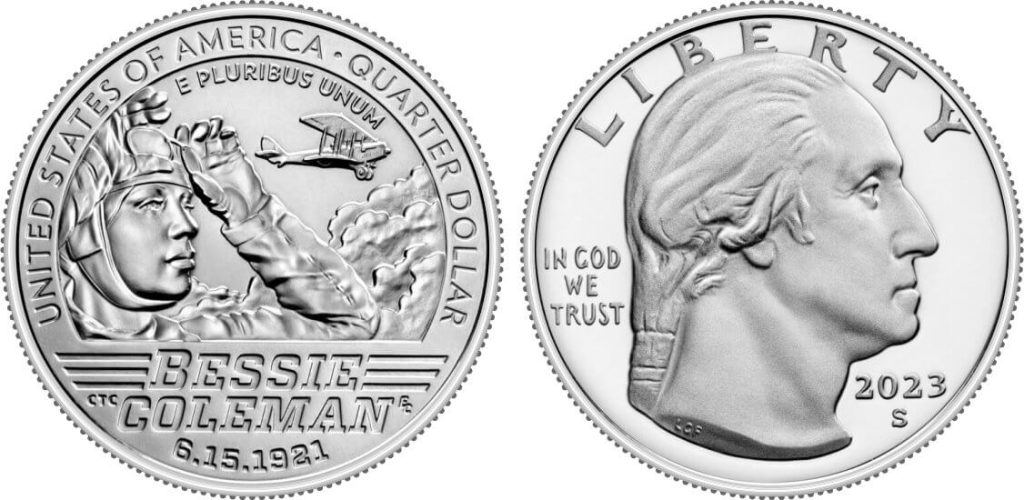 The 2023 Bessie Coleman Quarter (Buy on eBay) depicts Bessie Coleman—a pioneering pilot who became the first African American and first Native American female pilot and also the first African American to earn a pilot's license.
Mint Director Ventris C. Gibson noted, "The woman known as 'Brave Bessie' defied the odds and became an aviator. Her tenacious drive and fearless personality helped pave the way for future generations."
The 2023-P Bessie Coleman Quarter and the 2023-D Bessie Coleman Quarter will also be sold in two-roll sets and 100-coin bags beginning February 14.
In addition, a limited number of 2023-S Bessie Coleman Quarters will also be sold from that date only in a three-roll set, along with rolls of the Denver and Philadelphia coins.
Design
The design of the 2023 Bessie Coleman Quarter was unveiled on August 29, 2022, along with the other 2023 American Women Quarters, after having been reviewed by the Citizens Coinage Advisory Committee and the Commission on Fine Arts with the final selection having been made by Treasury Secretary Janet Yellen.
The obverse depicts a portrait of George Washington originally designed and sculpted by Laura Gardin Fraser to mark George Washington's 200th birthday. Recommended as the design for the 1932 quarter by the Commission on Fine Arts, then-Treasury Secretary Andrew Mellon ultimately selected the familiar John Flanagan design instead.
Obverse inscriptions include "LIBERTY," "IN GOD WE TRUST," and "2023."
The reverse depicts Coleman as she suits up to prepare for flight showing a facial expression that reflects her determination to be a pilot. It was only in the sky that she was able to achieve the freedom she lacked on the ground.
In addition to inscriptions for "UNITED STATES OF AMERICA," "QUARTER DOLLAR," "E PLURIBUS UNUM," AND "BESSIE COLEMAN," the date "6.15.1921" appears at the bottom of the reverse. That is the date she received her first pilot's license.
The reverse design is the work of Artistic Infusion Program artist Chris Costello, who said: "The new portrait of Bessie Coleman depicts her fierce determination and unyielding resolve to become a licensed pilot during a time of stiff opposition to ambitious women of color."
Costello added that as he was researching Coleman's life and the existing photos of her, he found that they all looked posed and similar to each other. He challenged himself to create a new portrait of her not based on an existing photo. He had his wife and young daughters (who are of African and Native American heritage) model for him to create a more active posture of Coleman shown as she readies her goggles. In the background is her Curtiss "Jenny" biplane that is shown as it soars through the skies and clouds.
About Bessie Coleman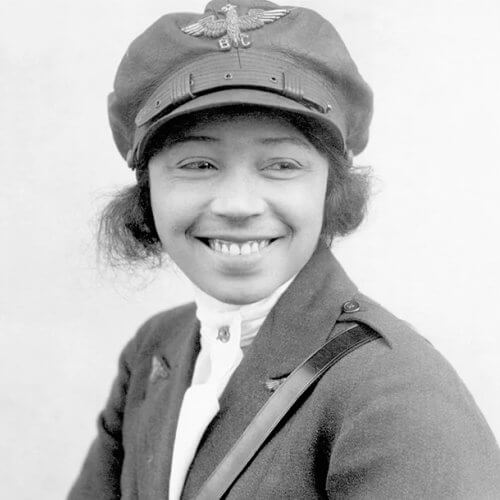 Born to a family of sharecroppers, Coleman worked in cotton fields from a young age while attending school. She developed an early interest in flying, but there were no opportunities at the time for women, especially those of color or Native American heritage, to receive training to become a pilot. She received sponsorships to attend flight school in France.
She soon found out that to earn a living at the time as a pilot, she would have to become a stunt pilot for American airshows, which involved performing dangerous maneuvers. She died in a plane crash in 1926 and has, since her death, become an inspirational figure for pilots and especially for women of African-American and Native American heritage.
Bessie Coleman Quarter Artist Information
Obverse Designer: Laura Gardin Fraser
Reverse Sculptor: Eric David Custer (Medallic Artist)
Reverse Designer: Chris Costello (Artistic Infusion Program)
Bessie Coleman Quarter Specifications
Denomination: $0.25
Composition: 91.67% copper, 8.33% nickel (clad), 99.9% silver (silver Proof)
Diameter: 0.955 in. (24.26 mm)
Weight: 0.182 troy oz. (5.67 g)
Thickness: 1.75 mm
Edge: reeded
Mint Mark: "D" (Denver), "P" (Philadelphia), "S" (San Francisco)
Bessie Coleman Quarter Mintage
2022-P Bessie Coleman Quarter: 302,000,000
2022-D Bessie Coleman Quarter: 317,200,000
2022-S Bessie Coleman Quarter: 501,120 (only sold as part of the 3-roll set)
Mintage numbers based on U.S. Mint sales figures as of November 13, 2023

< Anna May Wong | Edith Kanaka'ole >