On August 15, the United States Mint released into circulation the fourth coin in the American Women Quarters program, the 2022 Nina Otero-Warren Quarter (Buy on eBay), honoring the life and accomplishments of Nina Otero-Warren, a pioneer of the suffragist movement, Hispanic political figure, and first female elected superintendent of the Santa Fe school system. She was a lifelong and trailblazing advocate for women, children, and Native Americans.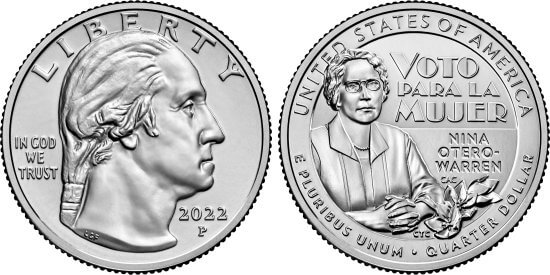 These quarter-dollar coins were struck for circulation at the Philadelphia and Denver Mints and in circulation quality at the San Francisco Mint, only available as part of a three-roll set sold by the Mint at a premium.
Bags and rolls of those coins sold out before the official release of the coin through the Mint's enrollment program.
They were also struck at the San Francisco Mint in copper-nickel and .999 fine silver Proof for inclusion in the 2022 Proof Set and the 2022 Silver Proof Set and in high-quality mint state condition at the Denver and Philadelphia Mints for the 2022 Uncirculated Coin Set.
Design
The obverse depicts a portrait of George Washington, originally composed and sculpted by Laura Gardin Fraser to mark George Washington's 200th birthday. A recommended design for the 1932 quarter, then-Treasury Secretary Andrew Mellon ultimately selected the familiar John Flanagan design.
Obverse inscriptions include "LIBERTY," "IN GOD WE TRUST," and "2023."
The reverse features an image of Nina Otero-Warren on the left, flanked by three individual Yucca flowers – New Mexico's state flower.
Reverse inscriptions include "VOTO PARA LA MUJER" (the Spanish counterpart for the suffragist slogan "Votes for Women"), "NINA OTERO-WARREN," "UNITED STATES OF AMERICA," "QUARTER DOLLAR," and "E PLURIBUS UNUM."
About Nina Otero-Warren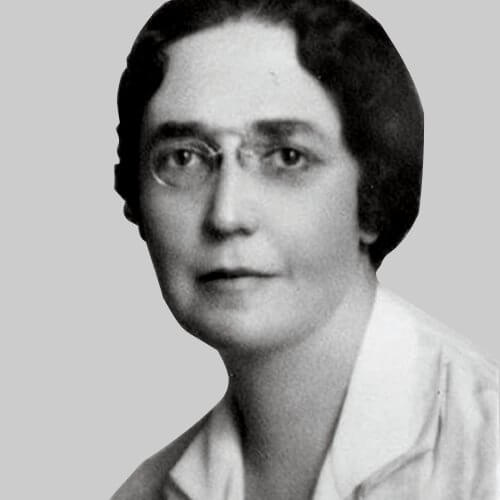 Born in 1881 in Los Lunas to an influential family in New Mexico, she was the first Latina to run for a seat in the U.S. House of Representatives from the GOP, became a prominent advocate for the 19th amendment giving women the right to vote and was the first female superintendent of Santa Fe schools.
As a suffragist, she led the New Mexico chapter of the Congressional Union, which later became the National Women's Party, and remained active in politics after losing her bid for Congress. She also helped to publish suffragist literature.
Between the two world wars, she served as superintendent of Santa Fe schools when she worked to improve the conditions for rural Native American and Hispanic Communities and fought against demands by the federal government to assimilate Hispanics and Native Americans by banning their traditional languages and culture. She argued that both Spanish and English should be used in the classroom and criticized the harsh conditions within the federal boarding school system for Native American children.
Nina Otero-Warren Quarter Artist Information
Obverse Designer: Laura Gardin Fraser
Reverse Sculptor: Craig Campbell (Medallic Artist)
Reverse Designer: Chris Costello (Artistic Infusion Program)
Nina Otero-Warren Quarter Specifications
Denomination: $0.25
Composition: 91.67% copper, 8.33% nickel (clad), 99.9% silver (silver Proof)
Diameter: 0.955 in. (24.26 mm)
Weight: 0.182 troy oz. (5.67 g)
Thickness: 1.75 mm
Edge: reeded
Mint Mark: "D" (Denver), "P" (Philadelphia), "S" (San Francisco)
Nina Otero-Warren Quarter Mintages
2022-P Nina Otero-Warren Quarter: 225,000,000
2022-D Nina Otero-Warren Quarter: 219,200,000
2022-S Nina Otero-Warren Quarter: 305,560 (only sold as part of the 3-roll set)
Mintage numbers based on U.S. Mint sales figures as of August 15, 2023

< Wilma Mankiller | Anna May Wong >